Dr. Jeffries joined the practice in 2011. He was born in New York. He earned his undergraduate degree in chemistry from the University of South Florida. He then moved to Cleveland, Ohio to pursue a podiatry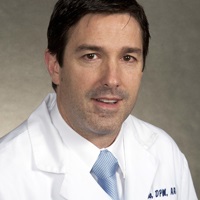 degree, which he received from the Ohio College of Podiatric Medicine. He completed a 3 year surgical residency at the University of Medicine and Dentistry in Newark, NJ. He then went on to the University of Texas and completed a 1 year fellowship in diabetic limb salvage and reconstructive foot and ankle surgery. He is affiliated with Griffin Hospital and regularly treats patients at their Comprehensive Wound Healing Center.
His academic interests include limb salvage and reconstructive surgery which took him to Athens, Greece. There he received additional training on the application of circular external fixators for the treatment of deformities and trauma of the lower extremities.He is currently a member of the American Podiatric Medical Association, the American College of Foot and Ankle Surgeons, and the American Board of Podiatric Surgeons.
He currently lives in Weston, CT with his wife Amanda and his two sons Alex and Oliver.  In his spare time, he enjoys running, playing basketball and traveling.
If you would like to tell us about your experience click here